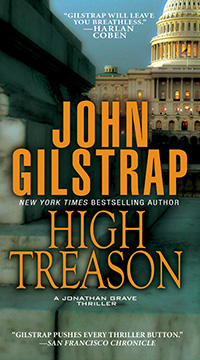 Now Available: High Treason, the new Jonathan Grave thriller
First Lady Anna Darmond has been kidnapped in a bloody gunfight. It's an unthinkable crime that, if revealed, could cause public panic, so hostage rescue specialist Jonathan Grave and his team must operate in absolute secrecy. But the mission is not all it seems. There are shadows in Mrs. Darmond's past. Cracks in the presidential marriage. Leaks in the country's critical shields of security. As Grave tracks the missing First Lady through a labyrinth of lies and murder, he confronts a traitor at the highest level of Washington power—and a devastating scheme to bring a nation to its knees...
Order High Treason at Kensington Books, Amazon, Barnes & Noble, Books-A-Million or IndieBound
"Gilstrap's series is terrific. It will leave you breathless. I can't wait to see what Jonathan Grave is up to next."
—Harlan Coben
"This addictively readable thriller marries a breakneck pace to a complex, multilayered plot... A roller coaster ride of adrenaline-inducing plot twists."
—Publishers Weekly on Hostage Zero
Newsflashes
Watch a video of John introducing the Jonathan Grave series at Bouchercon 2012!
Threat Warning was a nominee for the 2012 International Thriller Awards in the Best Paperback Original category!
Nathan's Run is now available as an eBook, and you can read the original ending here! Buy it at Barnes & Noble or Amazon.com.