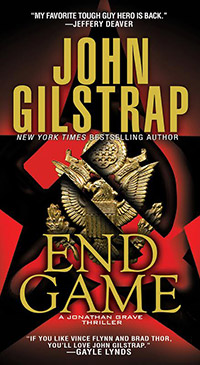 Now Available: End Game, the new Jonathan Grave thriller
Assassins have eliminated a Chechen scientist who's been working as a double agent for the U.S. government. The feds know who to call: Jonathan Grave and his elite rescue team. Their mission: find the dead man's teenage son, who's on the run—and off the grid—with crucial information that must not fall into the wrong hands. There's one problem: the boy's bodyguard is a security specialist with unusual talents, and she's not giving up without a fight. Only by bringing them both back alive can Grave expose the traitor in the highest levels of power—and prevent an all-out nuclear war.
Order End Game at Kensington Books, Amazon, Barnes & Noble, Books-A-Million or IndieBound
"Gilstrap's series is terrific. It will leave you breathless. I can't wait to see what Jonathan Grave is up to next."
—Harlan Coben
"This addictively readable thriller marries a breakneck pace to a complex, multilayered plot... A roller coaster ride of adrenaline-inducing plot twists."
—Publishers Weekly on Hostage Zero
Newsflashes
Listen to a podcast from Authors on the Air! "What actually happens when a person gets shot or stabbed? Do silencers really work? What's the difference between a fire, a deflagration and a detonation? We'll discuss these things and more during the interview."
Nathan's Run is now available as an eBook, and you can read the original ending here! Buy it at Barnes & Noble or Amazon.com.